HANDADĀNI BHIḲḲHAVĒ ĀMANTAYĀMI VŌ VAYADHAMMĀ SAṆḲHĀRĀ APPAMĀDĒNA SAMPĀDĒTHA.
BEHOLD NOW, BHIḲḲHŪS, I EXHORT YOU:
ALL CONDITIONED THINGS ARE SUBJECT TO VANISH. STRIVE WITH EARNESTNESS!
Nā Uyana is a Buddhist forest monastery in Kurunegala, Sri Lanka, associated with the Sri Kalyāni Yogāsrama Saṃsthā. It spreads over more than 5000 acres of forest on the 'Dummīya' mountain range, and is a residence to about 150 Buddhist monks.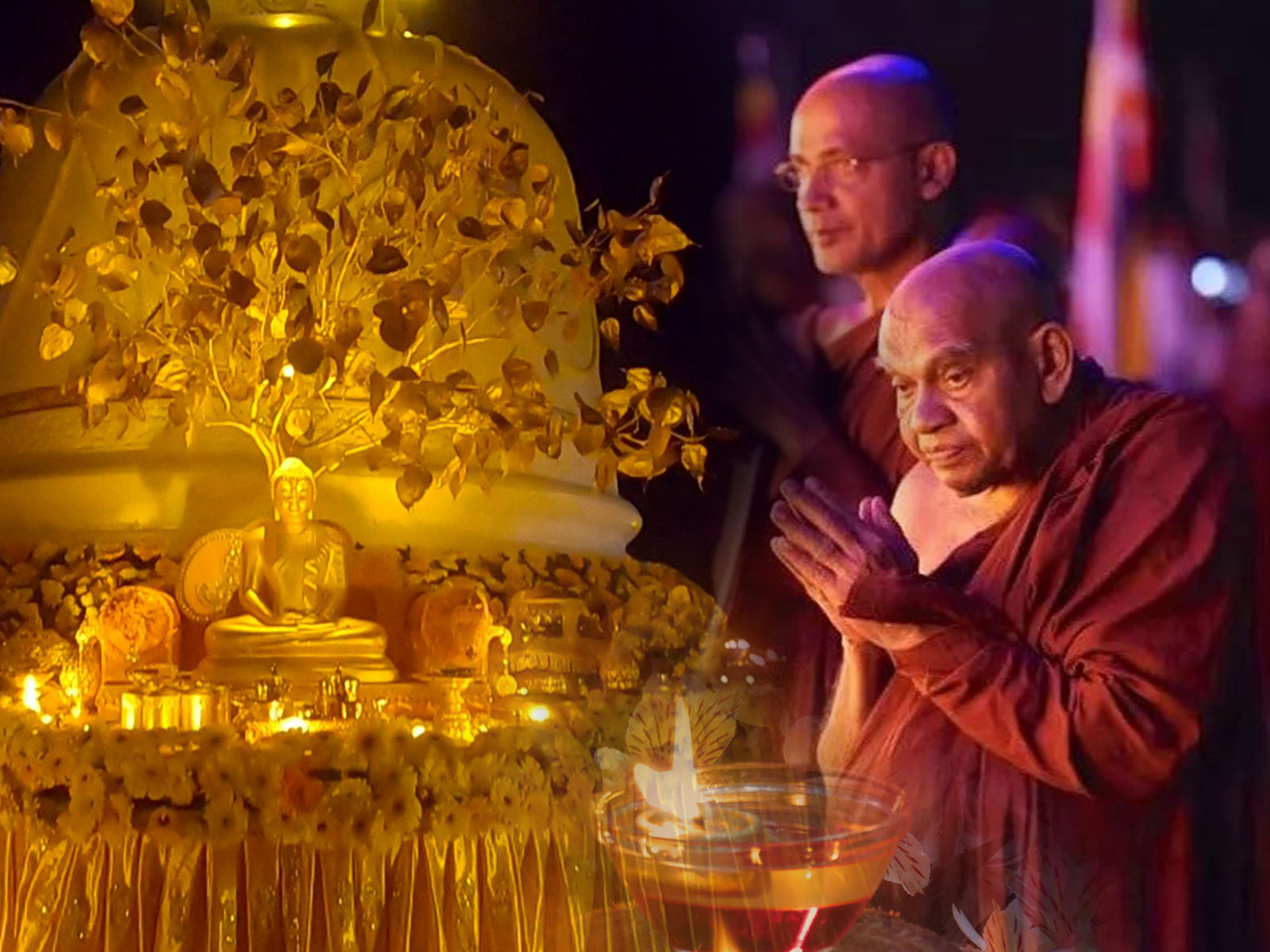 Those who wish to learn meditation techniques may listen to these recordings of some of the most respected meditation teachers of 'the Yogāshrama Samsthā'. By practicing according to the given instructions, you will be able to cover all the 'Samatha' & 'Vipassanā' ('Tranquility' and 'Insight') meditation techniques. Here, you will be given instructions to understand and practically use the techniques. By now, we have posted almost all the recordings of initial teachings of Samatha' and 'Vipassanā' that would be quite enough for a beginner to carry on with. We are hoping to post the recordings of the deeper teachings soon.
Even if the meditation instructions you can see here are shown under separate topics for your convenience, at the meditation retreats they have been explained in general. What you may see here are the Dhamma sermons delivered in Sinhala medium. And not only that, we do hope to post our Dhamma sermons in English & Chinese soon. Until then, those who don't speak Sinhala, please be kind enough to learn the meditation instructions through the Playlists in other available languages.
Click here for meditation techniques
在不久的将来,将会有中文译本的英文佛法讲道。
For your convenience, we have offered you two options to receive newly posted Dhamma Sermons and articles, etc. under different languages. By doing so, you will receive the links of the Dhamma Sermons related to your chosen language.
The first option is to receive the links to your email address by typing it in the 'Subscribe to our messages' box.
The links of several 'WhatsApp Groups' have been specified under the "Subscribe to our messages" box. As only we can send messages to these 'Groups', the inconvenience you might have to face by getting other unwanted messages have been avoided.
Subscribe to our messages
WhatsApp Groups
Click the following links to
join the WhatsApp groups
For Questions on Meditation
Please search your questions on the Previously Asked Questions page prior to send us your questions using the following method.
Visit Contact Us page, go to "Forward the message to"  section and select "Meditation Inquiries" option.
Meditation inquiries sent via Contact Us page under the selection "Meditation Inquiries" will be received by Ven. Monks of "Na Uyana Meditation Retreats Organizing Committee" 
This facility is reserved for Monks and Sayalays only
Monks and Sayalays who do not like to join 'Groups' or do not have email facilities may send us a WhatsApp message to +94 71 8455332 by specifying whether you are a monk or sayalay and the category of Dhamma Sermons that you would like to receive from this list (1 මුල සිට සරලව භාවනා උපදෙස්, 2 අනෙකුත් සිංහල ධර්ම දේශනා, 3 English Dhamma Discourses, 4 Chinese Dhamma Discourses)
Example: Monk, 3 English Dhamma Discourses
Important:
Please save our number (+94 71 8455332), unsaved numbers will not receive messages through this service.
If you want to cancel this service, simply delete this number (+94 71 8455332)